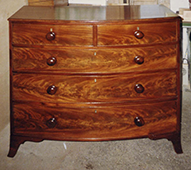 We make bespoke cabinets to fit both classical and modern designs. Often using rare, aged English timber, our craftsmen have restored period furniture along with handcrafting cabinets, cupboards, desks, sideboards and tables. We are also specialists in restoring antique furniture. Our skills include veneering, staining and polishing.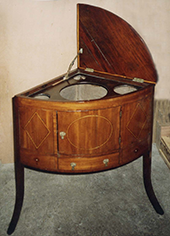 Renofirm is highly experienced in all types of timber restoration projects, large or small, including doorways, windows, stairwells and floors. We have successfully carried out several large retorations projects including churchs and listed buildings.
The Louis XV washstand shown came to us in several pieces. We repaired, re-veneered, stained and polished it.
A complete reconstruction was needed for the Victorian Bowfront chest of drawers above, including a flame veneer on the drawers.
Click here to see more exampes of our work.