Ron Franklin, proprietor of Renofirm, is a master craftsman with many years experience. You can be sure of a friendly, professional service throughout all phases of your project.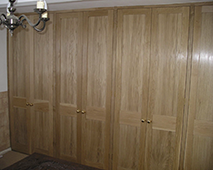 We make bespoke cabinets to fit both classical and modern designs.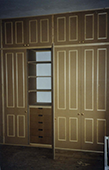 We believe in using traditional skills and designs (with meticulous attention to detail) alongside modern technology to produce pieces that are rightly regarded as classics of the future.
Don't worry if your room has chimney breasts, sloping ceilings, or protruding walls - that's no problem for us. We can design furniture to fit almost anywhere, leaving no awkward gaps or wasted space.
Our designers can help you develop your ideas into stunning high quality furniture.
No job is too big or too small. Whether you need a complete fitted bedroom, or a simple bookshelf, we can help.
Click here to see more exampes of our work.