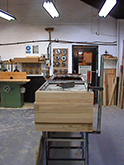 Top quality doors made from the finest English oak being prepared in our workshop.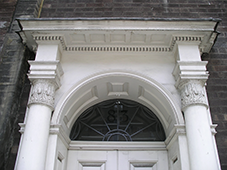 Renofirm can build and fit doors of any size. These include both interior and exterior doors with styles comprising of glazed, panelled and ledged, and braced board doors. We are able to match or design doors to fit into any desired period look.
We also produce bespoke folding and sliding room dividers as well as intricately-crafted screens.
From contemporary to traditional, we can cater for all design styles. With no standard sizes or specific ranges, we can design and manufacture your door to precisely meet your needs.
Our doors, frames and surrounds are manufactured in our well-equipped workshop using the highest quality timber, then installed on-site by our skilled craftsmen.
Examples of our work include the English oak door shown, as well as Jacobean Gothic style paired doors.
We work with a number of door furniture manufacturers, so we are able match any required style. If your door requires an unusual custom-made hinge, this is not a problem for us.
Click here to see more exampes of our work.